About this Honey
Honey with great personality, usually fluid. Color is brown, dark to very dark, with greenish hues, ≥ 90 mm in the Pfund scale. and has a very intense aroma and flavor, with hints of wood and resin, and marked bitter notes. Its strong flavours makes it perfect for meat Ooften produced in Summer.
About the Plant Species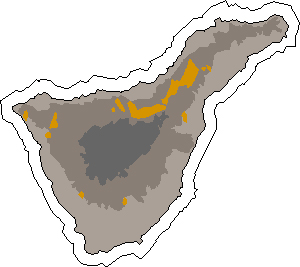 Chestnut trees are called in latin Castanea sativa. These treese from native to montane forests of Southern Europe. They are widespread in Tenerife in the boundary between the upper agricoltural areas and the lower forest range. This bee honey is often produced uphill on the North slope of the island but also in the SouthEast, in Arico and Arafo. Map from la Casa de la Miel :
About the CANARIAN BEE HONEYS
Canarian honeys are known worldwide for their outstanding quality. They are produced from plants typical of the archipelago, sometimes endemic and threatened. Their production is fully sustainable and helps the conservation of island ecosystems. Our honeys come from certified producers and they are not pasteurized, so they keep intact their properties and extraordinary flavour.
Tenerife Honey now has a "Protected Origin Designation" since the European Union approved it in January 2014 as a traditional, specialty product. There are now 12 types of monofloral honey recognised from Tenerife. The EU Protected Food Name scheme highlights regional and traditional foods, whose authenticity and origin can be guaranteed.
What do we ship?
We offer a certified glass jar, of net weight = 485 g
Image Note: The picture of the glass jar merged with the plant is from la Casa de la Miel.